All you need to know about EMS training
the biggest trend in fitness industry
EMS stands for Electrical Muscle Stimulation
This method has been highly popular in physiotherapy for many years
and now has entered the fitness world.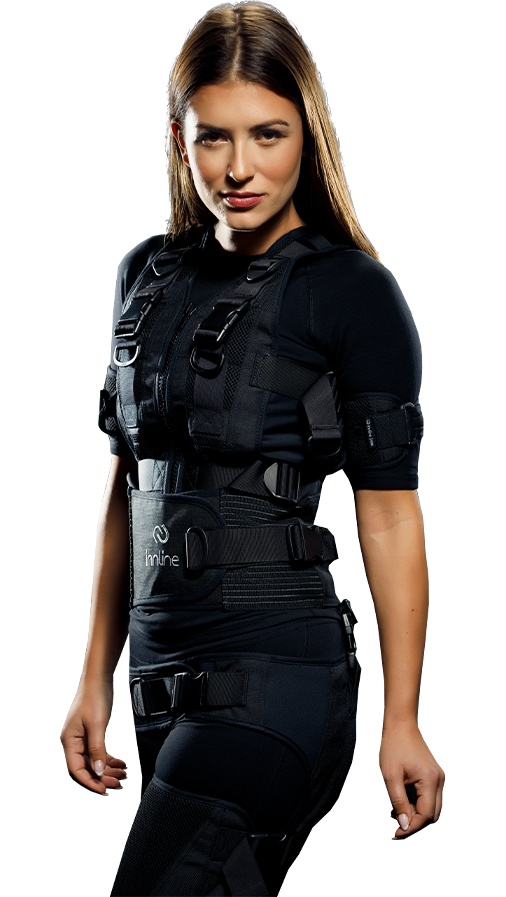 The device generates the impulses that are delivered to the skin surface through the special electrodes to stimulate the muscles. The impulses make the muscles contract and relax. So they simulate their natural movement but bring much better results, such as:
● dynamic muscle growth,
● fast fat reduction,
● better posture,
● more nerve connections.
All of this over 3 times faster than during the regular training.
With Innline EMS training device you need only two short trainings a week to achieve great results.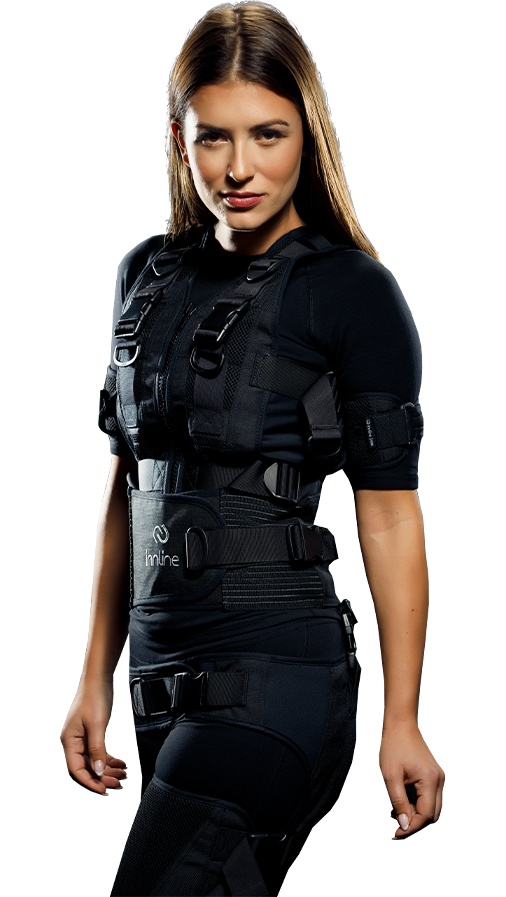 Why this type of training pays off?
Is more effective
& time-saving
One 30-minute training with EMS brings equal effects like 90 minutes of regular training.
Increases calorie burning capacity
Wondering how many calories can you burn during the 30-min. EMS training? Even 1200kcal!
Boosts
metabolism
Your body works better even outside the training room so the effects are even more impressive.
Speeds up
the muscle growth
The impulse send by the electrodes goes straight to the major muscle groups in your body.
Reduces
cellulite
Full-body workout with EMS results in smooth, supple and silky skin and self-esteem higher than ever.
Helps to get
better
With EMS you can target selected muscle groups and speed up the recovery.
Improves
the posture
You can choose which muscle groups to train to compensate for any disproportions.
Is 100% safe
for your health
You do not load joints and stretch your tendons. The risk of injury is minimized.
Is diverse
With EMS you never get bored, because you can practice at the gym, in the open or in your own apartment.
Is suited
to your needs
You decide when and where you train and which parts of the body you want to work on.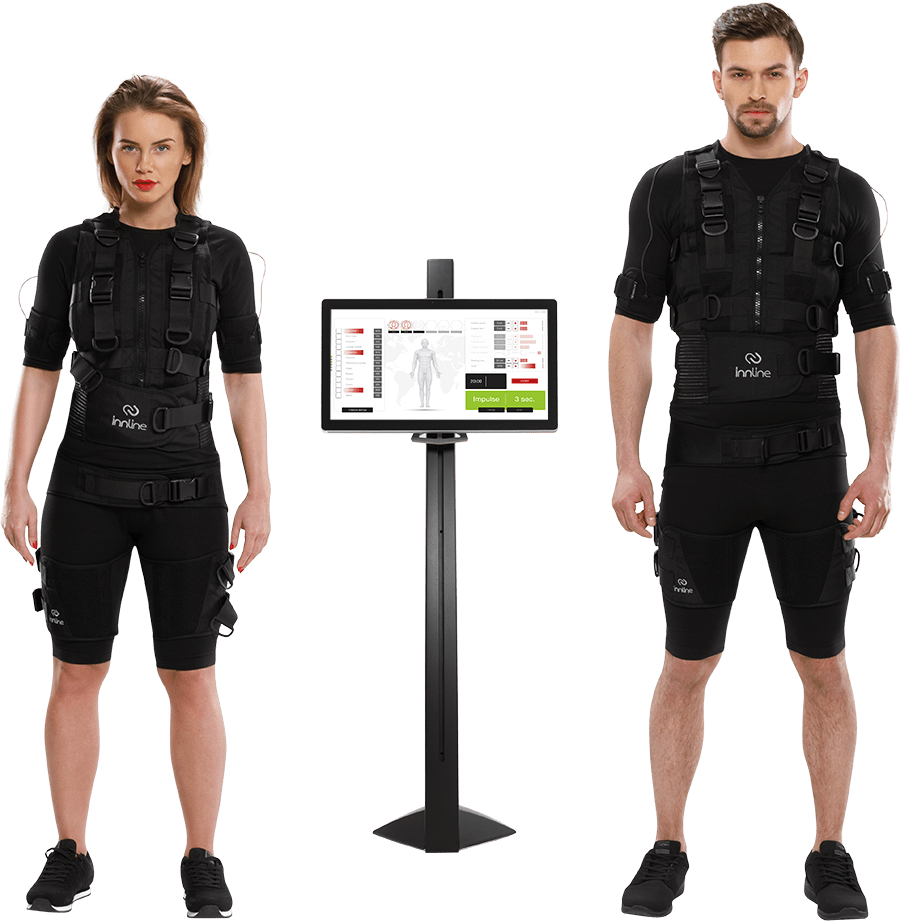 How to use EMS training devices?
Practice is the best way to learn. That is why we encourage you to take part in one of our training courses, conducted by the best specialists.
You will learn the history of the EMS method development.
You will master the functionality of training system.
You will learn to conduct a training unit with EMS.
And many more…
Innline Academy offers six types of training courses.
Pick the one you need.
The Innline EMS system is widely used.
This type of training is perfect for:
those who want to be in a good shape
people recovering from injuries
those who want to reduce the tension
The research clearly indicates that the EMS training results in the improvement of the body build and has the effect of easing the tension. In addition, it is a completely safe method because the generated impulses have the same frequency as the ones naturally produced by the human brain. The fact that it does not weigh the joints up enables the use of this form of training for both athletic and physically non-active people.
source: W. Kemmler, S. von Stengel, K. Engelke, L. Haberle, J. L. Mayhew, and W. A. Kalender, "Exercise, body composition, and functional ability: a randomized controlled trial," American Journal of Preventive Medicine, vol. 38, no. 3, pp. 279–287, 2010.
Become our partner and expand your business
If you want to know more about our EMS or get a customized offer for our training devices
Find out more about Innline EMS training devices
The basic wireless kit combines of a control panel, transmitter (with a battery), customizable suit, sprinkler and a clothing disinfectant.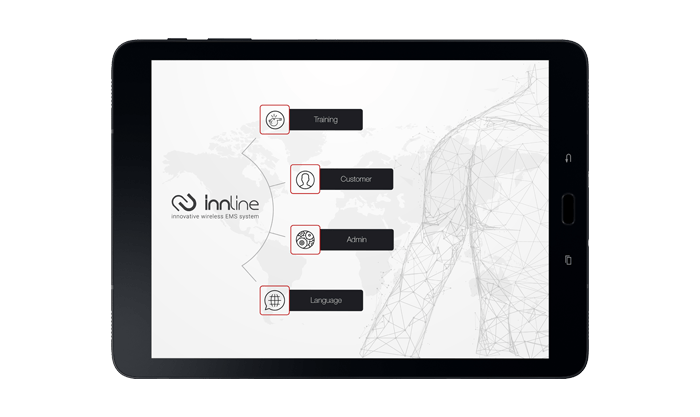 Control panels
We have different, wireless and mobile devices – perfect for those who want to train one,  two or more  people simultaneously. There are many configurations to explore, whichever option you choose.
Control panel features:
PT 11″ – PRO 21,5″ display
three types of pulses: bipolar, positive, negative
impulse up to 125 Hz
enables wireless training
defined & individual training programs
software updates are free of charge
24 months guarantee
If you want to train in your facility on PRO devices from 1 to 6 people simultaneously, check our line of PRO devices:
EMS Innline Pro
EMS Innline Pro Full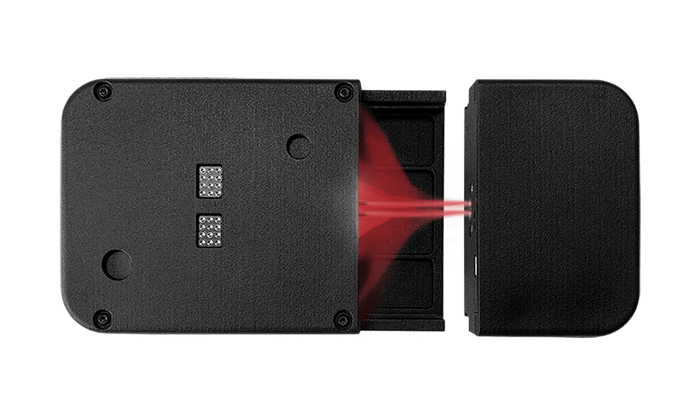 EMS box 2.0 (transmitter)
Transmitter receives the impulse from the control panel and sends it to the electrodes in the suit and then the signal is transmitted to particular muscle parts. That is how it works.
The device can be placed in three points on the belt what guarantees mobility and freedom of exercise.
EMS box 2.0 features:
replaceable battery
magnetic, 10 times faster connection
perfect shape, small size & low weight
12 monts guarantee
The new battery allows for a 6-hour continuous training.
Last but not least – the suit
Ergonomic, innovative, comfortable.
A training suit adjusted to the user's needs.
Produced from the very first component to the final product in Europe.

22 muscle stimulation points
shorter training time while keeping visible effects
Unisex suit
lower investment cost
Personalization
the possibility of personalization the suit adjustment to the brand
Additional calf stimulation
for the perfect leg training
Magnetic connection
More comfort, faster connection, low weight and size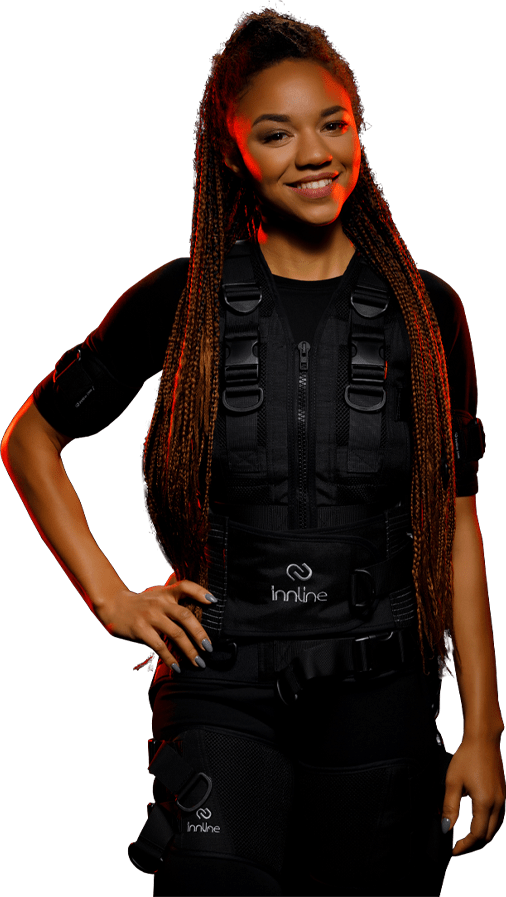 Independent stimulation of biceps and triceps muscles
higher training efficiency and faster muscle development
Individual combinations
the possibility of the size of top and bottom of the outfit adjustments
Innovative electrodes
big innovative electrodes well-matched to the body, available in two alternative designs
Exchangeable operating elements
significantly reduced costs of use